Jordan :
Dasouki Trading Corporation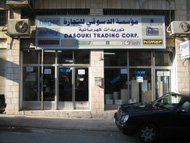 DASOUKI TRADING CORPORATION
Wadi Saqra
Hani Shaybani str.
Bld # 23
PO Box 815422
11180 AMMAN
Tel.: +962 6 465 27 11
Tel.: +962 6 465 27 22
Fax: +962 6 464 74 72

E-mail: dasouki@dasouki.com
Dasouki trading corporation is a family business that founded in Amman - Jordan 1988 as an importer & stockiest for various electrical installation meterials.
Since the beginning of business our goal was to supply the market / clients with high standard products that are dependable for use in all kinds of projects.
Looking back, shows clearly our endless efforts to achieve this goal by the continuing support we receive from our foreign suppliers which is extended & passed to our customers through our presence in the market.