Berker R.1 / R.3
Modern combination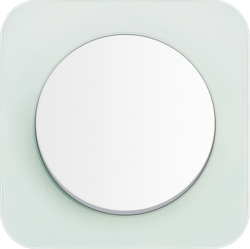 A brilliant tradition. A global model of success. And a great heritage, that we need to protect and further develop. Around a century after we built the first switch with a circular profile, we now are opening the next chapter. With the switch programmes Berker R.1 and Berker R.3, which the designer Werner Aisslinger created with Berker, we carry the great tradition of round switches into the future.
For wooden frames only: Wood is a natural material and may therefore show variations in colour and structure.
The Berker R.1 and Berker R.3 are the only programmes on the German market to consistently offer round centre plates universally. We offer both in the surfaces plastic, glass, aluminium and stainless steel, as well as a universal variety of functions. Both series reinterpret the tradition of round operating elements in an unmistakeable way.
• The contemporary rediscovery of round switches
• The only switch programmes with fully round centre plates
• High-quality surface material: plastic in polar white/black (glass, aluminium or stainless steel of 3 mm thickness)
• Basic support made of 7 mm-thick plastic